The competition is open to all students aged 18-30. The deadline for submitting essays is 17 April, 2017.
We are asking young scientists to look back over some of the scientific breakthroughs of the past and consider what discoveries and inventions will advance science, engineering, and innovation throughout the world for the benefit of all people in the future. By taking part in the Competition, you will inspire the next generation of scientists, gain invaluable writing skills, and meet amazing like-minded people. Importantly, you will also become part of an increasingly exciting network of scientists able to clearly and imaginatively explain their science to the general public. We look forward to your participation.
THE SCIENCE ESSAY: ASSESSMENT CRITERIA
For an essay you will be expected to read widely about the topic, select the best references, and then write a careful critical analysis. Your essay should introduce the topic, discuss it, and lead to a logical conclusion. The essay should have a title page, introduction, body with appropriate section headings, conclusion, and list of references
PRIZES The overall national winner will get the unique opportunity to publish his/her essay in the New York Times.
The winner and 5 runners-up will travel to the US to visit some of the best universities. The winners and the runners-up of the Competition will attend our Research Writing master classes on 1–3 June 2017 in Moscow. The master classes, run by some of the best science writers, will help the participants develop scientific writing skills so that they could write a publishable research paper ready for submission to an international peer-reviewed scholarly journal.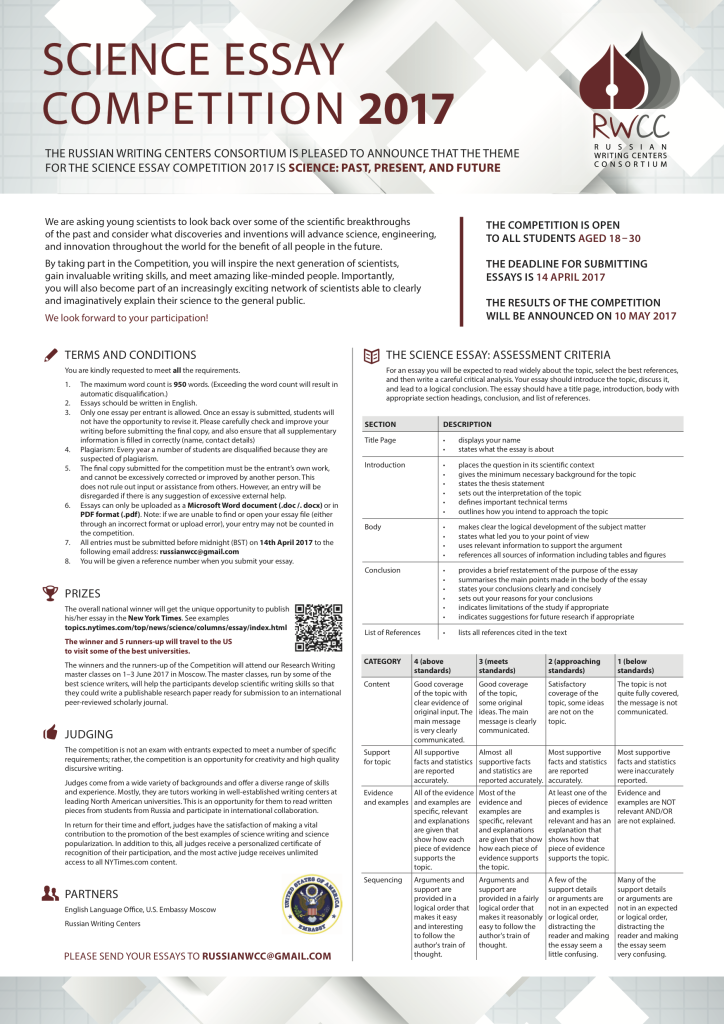 PLEASE SEND YOUR ESSAYS TO russianwcc@gmail.com
THE RESULTS OF THE COMPETITION WILL BE ANNOUNCED ON 10 MAY 2017